Reading Intent
'Every child a reader by 7.
All children will read fluently with confidence and enjoyment.'
At St. Columba's reading is at the centre of our curriculum. Our vision is to foster a lifelong love of reading amongst all of our pupils therefore providing them with the reading skills which will successfully allow them to access the breadth and richness of our curriculum and improve their communication and language skills.
As part of our Reading Curriculum all our pupils are exposed to:
Staff who are passionate, avid readers themselves.
Whole Class Guided Reading lessons 4 times weekly.
English lessons with a focus on reading high quality texts.
Individual reading experiences for less fluent readers.
Echo reading to individuals, focused groups and whole classes by an adult.
Class Reading Walls to motivate, encourage and reward reading at home.
Reading for Pleasure areas in every class.
Exposure to Recommended Reads for every year group.
Weekly Book Recommendations by staff and pupils.
Weekly visits to both our KS1 and KS2 Libraries by all classes using our electronic library systems.
Our Year 6 Librarians open, run and organise the libraries during break and lunch times.
'Secret' Reading Clubs once a week for reluctant readers.
FS and KS1 story sessions with parents.
World Book Day celebrated annually with a focus on reading.
Scholastic Book Fair visits twice a year.
Author visits
Invite parents to 'Share a story' together in classes.
Exposure to the Classics.
Annual visit from M&M Theatrical Production linked to children's narratives.
Please take a look at our wonderful Reading Curriculum!
| | | |
| --- | --- | --- |
| | | |
| Sharing stories with mum and brothers. | Sharing a story together. | Reading my favourite story to my mummy. |
| | | |
| Reading and sharing. | Quiet reading time with my mum. | Reading for pleasure together. |
| | | |
| Amazing storytelling to mum. | Book Talk! | Story time with my family. |
| | | |
| Cuddling through a story together. | How many stories can we share with each other? | Love listening to stories told by my child. |
| | | |
| Book Recommendations. | More Book Recommendations for 9+ | Sharing stories with friends. |
AUTHOR VISIT FROM JEN CAMPBELL THROUGH BRADFORD LITERATURE FESTIVAL.
As part of our Classic's Week to celebrate World Book Day, we were extremely excited to receive a special visitor-a published author-Jen Campbell.
Jen held an impressive, interactive and magical assembly for all our pupils who asked her some fantastic questions. The best part was her sharing her current book, 'Franklin's Flying Bookshop.'
READING FOR PLEASURE
Reading for Pleasure is key to educational outcomes for all pupils. We know that academic attainment is of vital importance but the benefits of reading for pleasure go beyond this and stretch throughout a person's life journey.
The research finds that reading for pleasure can result in:
understanding responsibility
Showing love at home and to others
helping us to learn
helping us feel comforted and loved
building confidence
expressing our ideas and ourselves
improving understanding of ourselves, others and the world
increasing empathy
improving relationships with others
reducing the symptoms of depression and dementia
improving well-being
Click on the link to find out ways reading for pleasure and sharing stories opens up our minds.
https://heartoftheschool.edublogs.org/2015/11/09/reading-for-pleasure-video/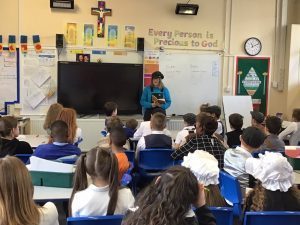 In awe and wonder, Year 6 listen attentively.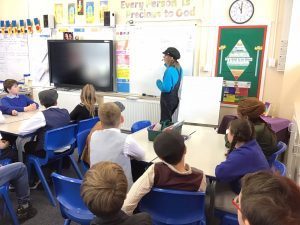 Where does your inspiration come from?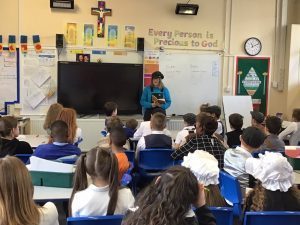 We definitely have authors now and in the future!
Watch this space.