Chaplaincy Team
The Chaplaincy Team is a team of pupils, staff and members of the parish who work together to enhance the Catholic life of the school.
The role of the Chaplaincy Team is the following:
To help the school to be a community of faith.
To encourage the pupils to live their faith in daily living.
To develop good relationships within and beyond the school community.
To support Liturgy, prayer and the spiritual life of the school.
To continue to develop strong links with the Parish.
To support the school in its Mission Statement as well as revisit the Mission with all stakeholders.
The Chaplaincy Team could:
Help to prepare weekly Virtue assemblies through the role of House Captains.
'Saints Day' celebrations.
Suggest ideas for RE resources.
Help to lead assemblies.
Work with other Chaplaincy Teams within the Trust.
Promote bible stories by reading them at playtime.
Maintain our Prayer Garden.
Work for charity and social justice causes.
Leading voluntary prayers at playtime.
Work to achieve the Live Simply Award.
Monitor and evaluate the Catholic Life, RE and Collective Worship of the school and contribute to the planning of events.
The Mini Vinnies
The Mini Vinnies are a part of our chaplaincy team. They seek to serve others who are in need or in hardship. Our children are some of the youngest members of the SVP Society and aim to continue the work of St Vincent De Paul. This year, 16 of our children attended the commissioning ceremony by Bishop Marcus, where the children made the Mini Vinnie promise.
Over the next year, they will:
Use their gifts and talents to serve others
Strengthen their friendship with Jesus
Care for others and God's creation
Treat others the way they wish to be treated.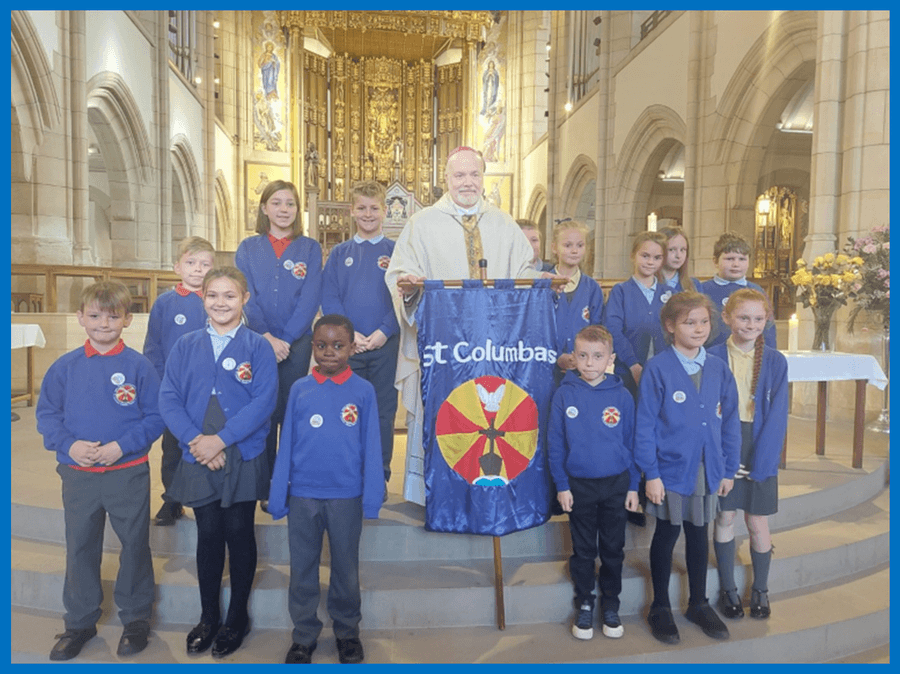 Harvest
Our first project this year was the 'Harvest Hampers'. We encouraged pupils and staff to bring in donations and supported classes in creating their hampers. They were then sent to the Franciscan Friars' soup kitchen in Bradford where they were overwhelmed with our efforts.
Samaritans Shoebox Appeal
Our next project was the Samaritans Shoebox Appeal. We planned and delivered an assembly to introduce what the project was about to the children. We delivered all the resources needed for the children to create their shoeboxes and advertised the drop off deadline around school so nobody could forget! We then collected the shoeboxes and sent them to the collection point ready to be sent around the world. We can't wait to find out where they ended up!